Step 1: Download and install MacroView Provisioning
To update your new site collection and create other SharePoint sites and libraries, we recommend installing and using the MacroView Solution Provisioning plugin/extension.
This extension is included with your evaluation or product license and is designed to automate the creation and provisioning of SharePoint locations to be used with MacroView.
Before continuing with this section, please visit the MacroView Solution Provisioning user guide to find information on how to download, install and use the extension.
Step 2: Add MacroView Site Columns, Content Types
Once you have downloaded and installed MacroView Solution Provisioning for Case and Matter, sign in to DMF using your site collection administrator account and update your new site collection by:
Right-clicking

 

on the

 

site collection

 

node, hover over

 

Provision

 

and select

 

Add Site Collection Components.
The Add Site Collection Components dialog will now appear, prompting you to select the solution components to add to your site collection (e.g. MacroView Case and Matter) . Once selected click OK to start the update process (this normally takes a few minutes to complete).
Once the process has finished, go to your tree-view, right-click the site collection node and select Refresh. 
MacroView Solution Provisioning quickly and easily configures your site collection to use with Case and Matter by creating site columns and content types required by MacroView to capture and display your metadata.
Step 3: Create a new matter
After completing the guide above, you will be ready to create a new matter in MacroView DMF.
To do this:
Right-click on the 'Matters' library created in your new client site.
Select the Create New Matter option.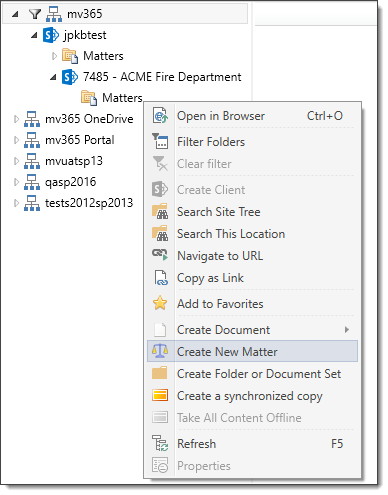 The Create New Matter dialog will appear, prompting you to enter properties for your new matter including, but not limited to:

Matter Name
Matter Type
Matter Status
Matter Managed By

After you fill in these properties, click the OK button to create your matter.
You can now use MacroView DMF to drag-and-drop, save, open and store documents and emails in your new matter location. 
Next: Start using Case and Matter (tutorials, guides) >>